Name: Ichiru yuta
Nick Name: Zero
Age: 18
Race: Vizard
Theme vs Hollows: Scream aim Fire by Bullet for my valentine
Theme vs Shinigami: Faint by Linkin Park
Height: 175 cm (5'9")
Weight: 61 kg (134 lbs)
Combat Strength: mastered every form of hand to hand combat and has mastered his blade and communication with it during shikai
Combat Weaknesses: is over confident in his skills at time causing him to either rush into a fight or fail to spot a flaw in his opponents technique
Shikai: In its release state His zan becomes two longer than average daggers named Nensho tsukishiro hoo (burning moon white phoenix) &Kyuketsuki ryu no megami (vampire dragon goddess) when released Nensho can fire bullets of flame from its hallow center and allows him to mildly manipulate flames. Kyuketsuki when it pierces of slices his enemy the wound will not cease to bleed until the wound is covered in a type of earthy substance (I.e. sand & mud) and then cauterized. Due to the bond with his zanpauckto his speed and proficiency with it is greatly increased.
Bankai: not yet acquired
Mask: Resembling an oni fox, his mask increases his reis heat and allows him to use his flamed wings more often. also his daggers gain a reinforced sharpness enough to slice through an arrancars skin(and at least lvl 10 - 5 espada)with ease as well as giving him a massive boost in speed and strength. the cero he fires is orange, and varies in strength and size. the moves his mask allow him to perform are Cero Duble and cero shower.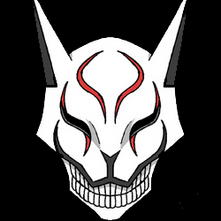 Mask Time limit: 15s(1s=1-1/2 both participants post)
Bio: During his time in the living world he learned from the worlds greatest fighters, from Brazil to Japan and more, in all types of martial arts and hand to hand as well as weaponry including CQC (close quarters combat). Studied under the worlds brightest minds and trained in the various arts and styles of parkour. at age 10 was one of the youngest allowed to join Militia under Special OPs and resigned to join ACME at age 17. during his Spec Op days was given the nickname Cero Spanish for "Zero", Japanese for "Hollow Flash" due to his speed in accomplishing missions and in fighting. During one of his missions trying to locate Carmen Sandiego he was ambushed by a group seperate from V.I.L.E. and was captured beaten and then killed. since then he has become a shinigame and only recently had recovered his memory and full potential in hand to hand combat but bears no grudge to the human world. Prior to gaining his memory he trained under yoroichi and Kisuke Urahara
and after several years finally yamamoto him ( all being prior to the event that caused him and the other vizards to gain their powers.). His hunger to learn more fighting techniques landed him finally as soifons first and possibly only student. A unique thing about Ichiru is his rein is heated similar to the heat waves close to the source of the flame and in duress and extreme situations his zan will create wings of flames to slow a rapid decent or cushion a severe fall. his zan is unique in its unsealed form like many other zans but by analyzing his opponents rei and kido/cero blast Ichiru can absorb the impact from the blast by draining the rei but only from those equal or lower than his power level attempting to do so against a higher level opponent results in him being blasted back but the power and in some cases damage him and his zan prompting careful use of this ability. Ichiru is as loyal as they come but is careful of the ones he chooses to be loyal to currently he is loyal to very few persons aside from his obligated loyalty to his captain and current and former teachers.